Timmins Kiwanis #10 Royal Canadian Air Cadet Squadron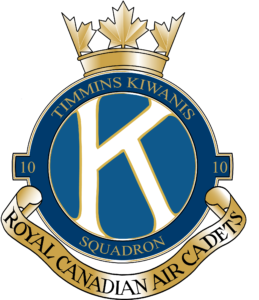 The No. 10 Timmins Kiwanis Royal Canadian Air Cadet Squadron is open to those youth aged 12 to 18 years old and is free to join. New cadets interested in joining the squadron are encouraged to attend at the Cassidy Armouries located at 355 Algonquin Street in Timmins from 6:30 p.m. to 9:00 p.m.each Monday, said a news release from the Squadron this week.
Air cadets participate in fun activities such as biathlon, flying, drill, marksmanship training, sports and educational trips. There are summer training opportunities available as well. 10 Timmins Kiwanis Squadron can be contacted at 10air@cadets.gc.ca for more information.
The Cadet Program is the largest federally-sponsored youth program in Canada that includes the Royal Canadian Sea, Army and Air Cadets. It is a national program for young Canadians aged 12 to 18 who are interested in participating in a variety of fun, challenging and rewarding activities while learning about the sea, army and air activities of the Canadian Forces.
The aims of the Royal Canadian Air Cadet Program are to develop the attributes of good citizenship and leadership, to promote physical fitness, and to stimulate the interest of youth in the air activities of the Canadian Forces. All this achieved in a challenging, yet disciplined environment.
Air Cadets are not members of the Canadian Forces. The movement is, however, sponsored by the Department of National Defence in partnership with the Air Cadet League of Canada.
Currently there are over 400 Air Cadet Squadrons located across Canada with approximately 50,000 young people enrolled in the cadet program.